This is an archived article and the information in the article may be outdated. Please look at the time stamp on the story to see when it was last updated.
Officers are seeking to identify for four men accused of threatening and robbing two gay men in a beachside parking lot in what Seal Beach police are calling a hate crime.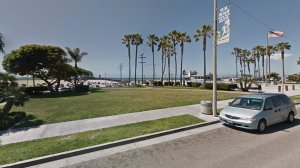 The incident occurred around 7:15 p.m. Friday night as the men were in the 10th Street beach parking lot at 902 Ocean Ave., Seal Beach police said in a press release.
The couple was walking when four men approached them and began making derogatory statements about their same-sex relationship and threatened to harm them, according to police.
One of the aggressors then forcefully stole one of the victim's cellphones, officials said.
The perpetrators were able to flee the area before officers arrived.
The suspects are described as four white men in their early 20s. At least three were about 5 feet 9 inches or 10 inches tall and of thin build.
One was wearing a dark-colored hoodie with red writing and jeans; another was wearing khaki or green pants with red Converse; a third wore shorts, Vans with white calf-length socks and a black cap with marijuana leaves; and the fourth was in a black sweatshirt.
Anyone with information related to the crime can contact Detective Jeff Gibson at 562-799-4100 ext. 1109.