This is an archived article and the information in the article may be outdated. Please look at the time stamp on the story to see when it was last updated.
Rescue crews and bloodhounds on Saturday were searching for a young South Pasadena boy after his father was found passed out in a park.
Aramazd Andressian Jr., 5, was last seen Tuesday at 6:45 p.m. via a Skype video call from an unknown location, South Pasadena police said. His mother reported him missing Saturday after his father, with whom she shares custody, failed to show up to their arranged meeting point at 8:30 a.m. to drop off their son.
Aramazd is described as being about 3 feet 4 inches tall and weighing 55 pounds.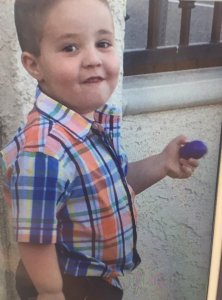 He was last seen wearing a turquoise shirt and plaid shorts and has a small mole on the bottom of his right shoulder, officers said.
His father Aramazd Andressian Sr., a South Pasadena resident, was found unresponsive in Arroyo Park early Saturday morning a short distance from his vehicle. He was questioned and eventually arrested, South Pasadena Police Chief Art Miller said in a news conference.
The toddler was not with his father at that time, Miller added.
The man was held on suspicion of child abduction and child endangerment, police said.
Bloodhounds had already combed the park Saturday morning but were sent out again in the evening after they'd been exposed to Aramazd's scent.
Sierra Madre Search and Rescue was also called into to search the park where the father was last seen. Overall, 125 personnel were assigned to the search operation, officials said.
"The purpose of that is to go into the wooded area to see if we can find the young boy," Miller said. "We are focusing on this area only because this is the last place that the father was. We don't have any other leads to go on at this time."
The father did not appear to be the victim of a crime, police said. He was cooperating with detectives in the search and was interviewed Saturday evening, officers said.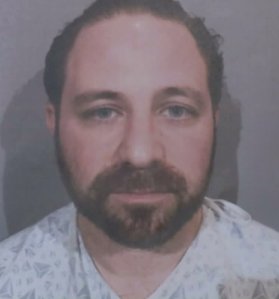 "The fact that he was the last person with his son is something that we're concerned about," Miller said. "We want to get to the bottom of that issue of why he does not know where his son is."
The boy's mother and father have been separated for more than a year and have a custody agreement, police said. The terms specify that the parents trade stewardship of their son every other week, Saturday through Saturday.
The custody agreement also stipulated that, while Aramazd is in the other parent's care, he is supposed to talk to the absent parent via Skype on Tuesday and Thursday evenings. That scheduled call never happened Thursday night, officers said.
The mother became concerned after the boy's father failed to drop him off at their agreed upon location in San Marino ahead of an appointment scheduled for the boy Saturday morning, Miller said.
By that time the father had been hospitalized and his car impounded, officials said.
Anyone with information about Aramazd's location can call South Pasadena police at 626-403-7297.
Correction: An earlier version of this story incorrectly stated the boy's height.