This is an archived article and the information in the article may be outdated. Please look at the time stamp on the story to see when it was last updated.
Police are looking for a woman who was captured on surveillance footage early Thursday morning twice trying to burn down a family's Rancho Cucamonga home just feet from where residents slept.
The incident occurred just after midnight in the 10500 block of Lemon Avenue, according to San Bernardino Sheriff's Department spokeswoman Jodi Miller.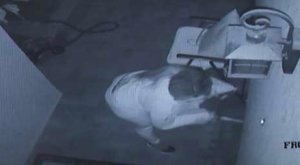 Authorities released surveillance video showing the arsonist approach the home with a gas canister. She takes her time pouring fuel on multiple areas of the home and throws matches on the fuel to light the areas on fire, as seen in the footage.
The house did not appear to catch fire.
The video then showed her return to the same home 20 minutes later where she repeated the process.
Later that morning, a family member arrived at the house and noticed a that a lawn chair near the front door had been torched.
Nobody was hurt and no damage was done to the residence.
A resident told KTLA that her family has no idea who the woman is. They don't believe that anyone would have a reason or motivation to burn down the home.
Surveillance footage shows the woman with long hair pulled into a ponytail with bleach accents, a lower back tattoo and tight sweatpants. Authorities describe the arsonist as Hispanic, but did not release a detailed suspect description.
The Sheriff's Department did not provide any additional information about the ongoing investigation.