This is an archived article and the information in the article may be outdated. Please look at the time stamp on the story to see when it was last updated.
A suspected robber was dead and his accomplice was being sought by police after robbery gone wrong at a pot shop near LAX on Wednesday, authorities said.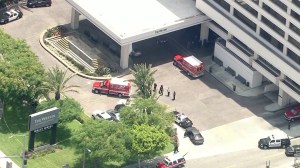 Shots were reported fired just after 12:15 p.m. in the 5300 block of West Century Boulevard (map), according to Officer Liliana Preciado of the Los Angeles Police Department's Media Relations Section.
When two men attempted to "engage" the security guard at a marijuana dispensary, the guard fatally shot one of the men, she said.
Police on scene said a woman was injured by hitting her head during a fall amid the incident.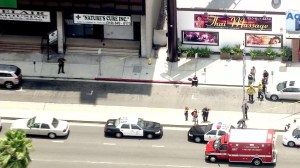 Aerial video showed two crime scenes had been set up — at a medical marijuana shop called Nature's Cure Inc. and at the nearby Westin hotel.
A witness said he heard gunfire then saw the man who died flee and collapse at the hotel.
"We heard like seven shots, bang bang bang bang, real loud," said witness Anthony White. "I saw a guy running; he was holding his stomach. He was running toward the Westin hotel. I think he collapsed and that's where he died.
"In a matter of seconds, cops were here and it was crazy," White said. "It was like a war zone."
A white sheet appeared to cover at least one body in front of the hotel, aerial video showed.
Multiple patrol cars and ambulances were on scene.
From Concourse Way to La Cienega, traffic was shut down on  Century Boulevard, the busy eight-land roadway leading to Los Angeles International Airport, according to the Los Angeles Airport Police Department.
The dead man's accomplice fled and was last seen in a black BMW, police said. He was described only as a light-skinned Hispanic or black man wearing a brown baseball cap, beige shirt and green pants, Preciado said.
Anyone with information was urged to call homicide detectives at 310-482-6313.
Police activity 5300 Century. LAPD enroute to the location. Use caution in the area.

— LA Airport PD (@LAAirportPD) June 25, 2014
#laxtraffic EB traffic Century diverted to SB/NB Aviation, NB Airport and from Airport upper and lower to NB/SB Sepulveda.

— LA Airport PD (@LAAirportPD) June 25, 2014
KTLA's Jennifer Thang contributed to this article.