This is an archived article and the information in the article may be outdated. Please look at the time stamp on the story to see when it was last updated.
Police are asking the public for help in identifying a hit-and-run driver who left a motorcyclist to die following a collision in Winnetka Tuesday night.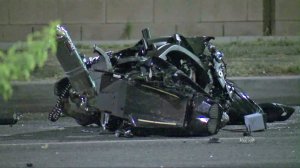 The crash occurred about 8:30 p.m. near the intersection of Sherman Way and Oakdale Avenue, the Los Angeles Police Department stated in a news release.
A black sedan, possibly a BMW with tinted windows and dark rims, was traveling westbound on Sherman Way near Oakdale Avenue when it turned left in front of the motorcyclist who was traveling eastbound.
The crash caused to motorcyclist to crash into a van parked on Sherman Way just east of Oakdale Avenue.
"The motorcyclist actually went inside the van due to the speed and forces involved," Los Angeles Police Department Detective Bill Bustos said.
The driver of the black sedan stopped momentarily, got out of the vehicle to assess the situation, and then got back inside and left the scene without identifying himself or rendering aid to the victim, Bustos said.
The motorcyclist, who has not been identified, was taken to a local hospital where he died from his injuries, the Police Department stated.
The hit-and-run driver was described as an Armenian or Hispanic man in his late 20s or early 30s.
A $50,000 reward is being offered for information leading to the arrest and conviction of the driver.
Anyone with information was asked to call the Police Department at 818-644-8021. Those who wish to remain anonymous can call Crime Stoppers at 800-222-TIPS (800-222-8477).