This is an archived article and the information in the article may be outdated. Please look at the time stamp on the story to see when it was last updated.
Authorities were seeking a man who robbed a Norm's restaurant in Downey at gunpoint, officials said Wednesday.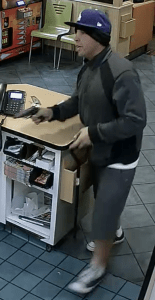 The man, who walked with a cane, held a small semiautomatic handgun as he approached the cash register,  surveillance video showed. The incident occurred the evening of Dec. 12 at the Norm's restaurant on 7955 Firestone Blvd, city officials said in a statement.
The robber took money from the register and exited the restaurant through the front door to an awaiting vehicle, officials said.
Officers responded to the scene at around 9:30 p.m., according to authorities.
No injuries were reported.
Officials describe the robber as a 40- to 50-year-old Hispanic man about 5 foot 8 inches tall weighing around 180 pounds. The video showed him wearing a blue L.A. Dodgers cap on top of a black beanie, a gray sweatshirt and gray shorts.
Anyone with information can call Detective Ethan Roberts at 562-904-2333 or Sgt. Leigh Lacy at 562-904-2340.