This is an archived article and the information in the article may be outdated. Please look at the time stamp on the story to see when it was last updated.
Police have identified the man accused of assaulting a police officer with cinderblock in Anaheim on Tuesday.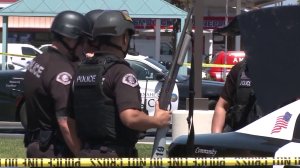 Jarod Adam Fischer, 26, was taken into custody after an extensive search following an officer-involved shooting, police said. The incident occurred about 11:40 a.m. in the 300 block of North State College Boulevard.
An officer was chasing Fischer on foot when he broadcasted over a police radio that he had been assaulted by a deadly weapon and had shot his gun, Sgt. Daron Wyatt told KTLA. Police later said that weapon was a cinderblock.
Wyatt said the man did not appear to be shot when he was later taken into custody.
Fischer allegedly ran into a neighborhood and police began searching for him.
A helicopter was assisting in the search for the man, and was making announcements via speaker to tell residents to stay in their homes. SWAT officers and police dogs were also searching on the ground.
Fischer was found in a backyard and taken into custody about 12:55 p.m., police said.
The owner of the house where he was found behind said he was at work in El Segundo when his phone was flooded with notifications from his home security system.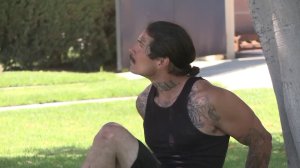 "My phone keeps blowing up from all these cameras going off, and I didn't know which one to look at, so I just clicked on one and it's two police officers at the front door," said Deepak Jalewalia. "And I'm like, 'OK, that's strange.'"
Jalewalia then spoke with a neighbor, who informed him there were at least 20 officers surrounding the home.
After being found in the backyard, officers processed the suspect's arrest in the front yard. Video from the scene showed a man in handcuffs without shoes on sitting under a tree.
It is unclear what prompted the foot chase, Wyatt said, adding that the investigation into the incident was just beginning.
Sycamore Junior High School was placed on lockdown during the search, but it was eventually lifted.
Esthefanye Zamudio, who works at a nearby office, said she heard three shots before seeing police cars respond to the scene.
Confirmed suspect in custody without further incident. Officers and suspect uninjured. Investigation underway pic.twitter.com/ozfxs9MCY8

— Anaheim PD (@AnaheimPD) April 17, 2018
Search for suspect continues with officers/SWAT/K9s on the ground and helicopter overhead. Residents should continue to shelter in place until further notice. Unknown if suspect struck.

— Anaheim PD (@AnaheimPD) April 17, 2018
OIS just occurred 300 blk N State College Blvd. Suspect fled into neighborhood. Residents should shelter in place till further notice. Searching for M/H with Tattoos on face and neck, long black hair gray shorts. Sycamore JH on lockdown. PIO on scene. pic.twitter.com/ofvIlF4UUL

— Anaheim PD (@AnaheimPD) April 17, 2018
KTLA's Jennifer Thang and Melissa Pamer contributed to this story.