This is an archived article and the information in the article may be outdated. Please look at the time stamp on the story to see when it was last updated.
Police in El Segundo asked the public for help Tuesday in their search for a man who exposed himself to two women near a local park.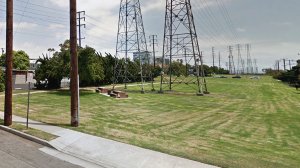 The incidents occurred Sunday in the area of Washington Park, the El Segundo Police Department stated in a crime bulletin.
About 9:20 a.m., a victim was approached by a man near the intersection of Washington Street and Palm Avenue.
The man said, "Good morning, how are you?" But when the victim looked at him she noticed his pants were sagging and his genitalia was exposed, police said.
Then, about 10:50 a.m., a woman was sitting on a park bench near Washington Street and Maple Avenue when the suspect sat next to her.
When the victim looked over, the man's pants were around his ankles and he was masturbating, police said.
Police were called to the area but could not locate the man.
The suspect was described as a black man, about 30 to 45 years old, standing 6 feet tall with a bald head and dark eyes.
He was wearing a red T-shirt, faded red/burgundy pants with no belt or underwear. He was carrying a red/black backpack and had what one victim described as a black "nylon looking" jacket.
Investigators believe the man may be an area transient.
Anyone with information was asked to call Detective Paul Saldana at 310-524-2284.