This is an archived article and the information in the article may be outdated. Please look at the time stamp on the story to see when it was last updated.
Officers on Tuesday asked Angelenos to be on the lookout for a white Porsche whose driver fled the scene after fatally hitting a cyclist in South Los Angeles.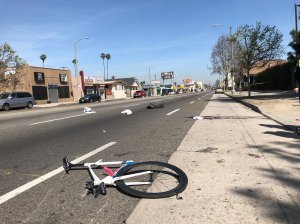 The incident occurred near the intersection of Manchester Boulevard and Normandie Avenue, right on the border of the neighborhoods of Manchester Square and Vermont Knolls, L.A. Police Capt. Jonathan Tom said in a tweet.
It's unclear exactly what time the crash occurred.
The person was struck by a white Porsche Cayenne SUV, according to Tom.
A photo of the scene shows a white bike in the street with its handlebars and back wheel missing, and other debris strewn across the street behind it. The Porsche is likely to have sustained damage.
Police have not released any further details, or identified the victim. It's unclear whether the person died at the scene.
Cycling advocacy blog Biking in L.A. estimates the victim was the 16th bicyclist to die in a Southern California traffic collision this year, with half of those deaths in L.A. County.
Anyone with information about the incident can contact LAPD detectives at 323-421-2500 or submit an anonymous tip via 800-222-8477.
Correction: An earlier version of this article gave the incorrect day for when the crash occurred. The story has been updated.
Another fatal hit and run traffic collision. This time it was a vehicle versus bicyclist at Manchester Boulevard and Normandie Avenue in 77th division. We are looking for the driver of a white Porsche Cayenne SUV. If you are the driver turn yourself in to the nearest LAPD station pic.twitter.com/aPyhr6nLwm

— Jonathan Tom (@CaptainJonTom) April 10, 2018
#LAPD Det's are seeking the publics help in identifying the person responsible for todays fatal hit & run involving a bicyclist in the 1300 block of W. Manchester. Susp driving a white Porsche Cayenne SUV. Any info, call @LAPDSouthTraff Det's at 323-421-2500. 📷:@CaptainJonTom pic.twitter.com/2lXwaThwy1

— LAPD HQ (@LAPDHQ) April 10, 2018