This is an archived article and the information in the article may be outdated. Please look at the time stamp on the story to see when it was last updated.
A possibly armed man was being sought and a second man was detained Tuesday after witnesses said they opened fire on a Whittier police officer.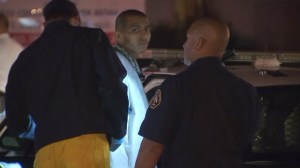 An officer conducted a traffic stop on two men Monday shortly before midnight when the passenger exited the vehicle and pointed a gun at the official, Whittier Police Department Officer John Skagen said.
Fearing for his life, the officer fired at least two rounds and both men fled on foot, Skagen said.
As the men fled, witnesses told police at least one of them fired at least two rounds at the pursuing officer.
No one was believed to be injured in either shooting.
One of the men was later found hiding under a children's swing set and was detained.
Police were actively searching for the second man throughout the night, and residents were advised to stay inside.
"I would absolutely recommend that you stay inside at this point, unless the officers have already cleared your particular area," Skagen said. "If they haven't made it through your area, I would stay inside, keeping the windows and doors locked. … If you see or hear anything, call 911."
Police were searching in a circular area between Santa Fe Springs Road at Whittier Bouelvard and just west of Lambert Road.
The search area included Evergreen Elementary School.