This is an archived article and the information in the article may be outdated. Please look at the time stamp on the story to see when it was last updated.
Authorities are searching for a man dressed in "preppy" clothes who is seen on video surveillance assaulting female shoppers in Canoga Park and Woodland Hills earlier this month, police announced Thursday.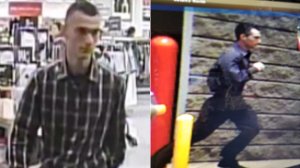 Detectives with the Los Angeles Police Department released footage that shows the man approaching at least four separate women from behind and "thrusting his groin into their buttocks," according to a department news release.
The victims reported incidents on July 10 and July 11 at a shoe store, a women's discount clothing store and a department store, the news release said.
The suspect tends to choose victims who frequent stores that sell higher-end merchandise, Detective Arlene Padilla told KTLA.
In one instance, the man allegedly followed the victim in a parking garage and grabbed her from behind in a "bear hug" before quickly releasing her, authorities said. The woman then chased him away.
Police suspect the man rides the bus into Canoga Park.
"We think he focuses on stores frequented by women during daytime shopping trips," Padilla said in the news release. "He might be seen on the Orange Line or in any store between Fallbrook St. and DeSoto Ave., and Erwin St. to Sherman Way, which is the greater shopping area for the West San Fernando Valley."
Though none of the women were injured during the alleged assaults, Padilla told KTLA she believes the man's behavior could escalate.
The man is described as being thin and in his mid-20s, with a short "military-type" haircut, police said. Authorities describe his dress as "preppy" and "clean cut."
People with more information are asked to contact the Police Department at 818-756-3376. Callers who wish to remain anonymous can contact Crime Stoppers at 1-800-222-8477.