This is an archived article and the information in the article may be outdated. Please look at the time stamp on the story to see when it was last updated.
Police were searching for a gunman who opened fire with a "high-powered" rifle in the Arlington Heights neighborhood of Los Angeles Wednesday morning.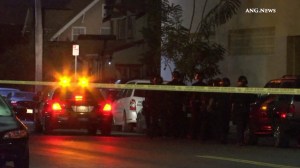 Authorities received a call about 2 a.m. reporting multiple shots near the intersection of Sixth Avenue and West Washington Boulevard, said Lt. Jenal with the Los Angeles Police Department.
A witness told authorities the shots were fired from street level before the gunman ran into the second-story unit of a duplex on Sixth Avenue, Jenal said.
Residents said they heard "several rounds" being fired before police arrived.
Responding officers found about four shell casings belonging to a "high-powered" rifle, Jenal said.
The shooter was described as a Hispanic man who may live in the duplex he ran to after the shooting, but that was not yet confirmed, Jenal said.
SWAT officers were called to the scene and helped to evacuate the duplex and surrounding buildings, Jenal said.
A perimeter was set up from Fifth Avenue to Seventh Avenue, Jenal said. "Our hope is that he is still contained in that perimeter."
A later search of the unit revealed the gunman was no longer there.
K9 units were then brought in to search the surrounding areas for the gunman, Jenal said.
Nearby Arlington Heights Elementary School was temporarily closed during the search.
Students and staff for the elementary school were relocated to Cochran Middle School, according to a tweet from the Los Angeles School Police.
Police cleared students and staff to return to the elementary school just before 10 a.m., but the search continued for the gunman.
Investigators did not have a motive for the shooting and no injuries were reported as a result of the gunfire.