This is an archived article and the information in the article may be outdated. Please look at the time stamp on the story to see when it was last updated.
Update: Officials provided new information about this case. An updated story is here. 
Authorities on Friday asked for the public's help in locating a 6-year-old boy who was reported missing in Apple Valley.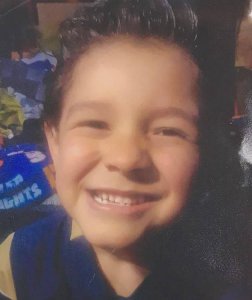 The child, Duke Flores, was last seen in the area of Cherokee Avenue and Pawnee Road, according to an Apple Valley Police Department news release. The closest major intersection is Navajo Road and Highway 18.
Detectives were seen going in and out of the house throughout the day Friday, carrying off items of clothing and towing two vehicles from the property.
Friends and family members gathered to support each other at a prayer vigil on Friday evening.
"I just want to find him. Nobody knows," said the boy's grandmother, Lydia Gutierrez. "I know this is a quiet community, but somebody had to see something."
Duke has autism and has wandered away in the past, family said. Gutierrez said she hadn't seen her grandson in 10 days.
It was not clear why the boy wasn't reported missing sooner.
No additional information about his disappearance has been released. Police also did not provide a time or date of when he was last seen.
Police said late Friday that Duke's mother had been arrested, but they did not say what crime she was accused of.
Duke's godfather, Juan Contreras, said he didn't believe the mother would have harmed the boy.
"That's her pride and joy," he said, adding that he believed Duke wandered away, and his disappearance did not involve foul play.
Police described Duke as a light-skinned Hispanic boy, about 3 feet, 10 inches tall, with brown hair and brown eyes.
Anyone with information is asked to contact Sgt. D. Alexander by dialing 760-240-7400, Ext. 7412, or by email at dalexander@sbcsd.org. Tips can also be left by calling dispatch at 760-956-5001 or the WE-TIP hotline at 1-800-782-7463.