This is an archived article and the information in the article may be outdated. Please look at the time stamp on the story to see when it was last updated.
Authorities were searching for two gunmen Tuesday after a 24-year-old Banning man died and four other people were injured during a shooting in San Bernardino, according to a police department press release.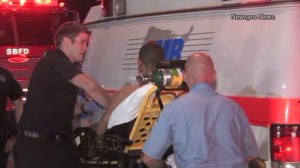 The shooting occurred at the corner of East Baseline Street and North Waterman Avenue (map) around 11 p.m. Monday, said San Bernardino Police Department Sgt. John Cardillo.
The incident may have occurred inside and outside a vape shop at the intersection.
"It appears that most of the shooting took place in front of the smoke shop, but several rounds were fired. I can't tell you exactly where they were," San Bernardino Police Department Lt. Rich Lawhead said.
Orlando Wayne Hunt Jr. was identified as the victim, the press release stated. He was taken to the Arrowhead Regional Medical Center in Colton.
Hunt's body was found in the parking lot of a vape shop, and two men and one female victim were inside the store, Sgt. Gary Robertson said.
A fourth male victim was found in a Stater Brothers grocery store parking lot nearby, Cardillo said.
The vape shop was open during the incident, and three employees took shelter and were uninjured, Robertson said.
The four injured victims were transported to a hospital and listed in stable condition, the press release stated.
Officers detained multiple people at the scene for questioning.
The shooters were only described as two black men, and the incident appeared to be gang or narcotics related, the news release stated.
Anyone with information was asked to contact Detective Bill Flesher at 909-384-5655 or Robertson at 909-841-5361