This is an archived article and the information in the article may be outdated. Please look at the time stamp on the story to see when it was last updated.
Police were searching for the gunman who shot and killed a coworker in a high rise in downtown L.A.'s garment district late Wednesday afternoon.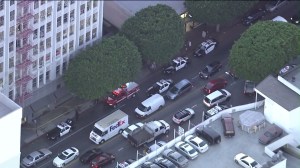 The shooting was reported in the 100 block of Seventh Street at 4:15 p.m., Los Angeles Police Department Officer Liliana Preciado said.
One person was "down" and had not been transported as of 4:30 p.m., she said.
LAPD Officer Matt Ludwig said the case had turned into a homicide investigation, and then later said the victim was hospitalized in critical condition.
As of 8 p.m., police had confirmed the victim was in fact dead, according to Preciado.
The shooting occurred after two coworkers got into an argument on the sixth floor of the building, police said.
"We had coworkers that were in a garment manufacturing business and became involved in a dispute," said Capt. Michael Oren.
After the argument, the suspected gunman left the location but returned later and shot the victim, according to Oren.
The shooter was described only as a Hispanic man. "He was wearing a suit and tie," a police captain on scene later said.
The identity of the victim had not been released.
Aerial video from Sky5 showed multiple police and vehicles on the south side of Seventh Street, close to the cross street of South Los Angeles Street. The area is on the edge of Skid Row and the Fashion District.
KTLA's Nidia Becerra contributed to this article.
More video;