This is an archived article and the information in the article may be outdated. Please look at the time stamp on the story to see when it was last updated.
Santa Ana Police are looking for two men in connection with two robberies that occurred Wednesday, officials said.
During the first incident, the men went into a Motel 6 in the 160 block of East 1st Street. They allegedly jumped the lobby desk and brandished a knife at the hotel clerk and demanded money from the register. The clerk gave the men the money and they left the area, police said.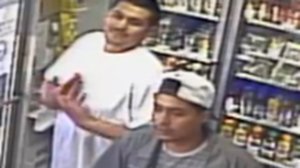 About five minutes later, the same men are believed to have robbed a 76 Gas Station in the 1500 block of East Edinger Avenue.
The men bought $10 worth of gas and demanded cigarettes. When the clerk asked the men for identification, they demanded that the clerk open the register and give them all the money, police said.
The men then left the area.
They are described as being between 18 and 20 years old. One is believed to be between five feet and two inches and five feet 4 inches tall and weighs about 140 pounds. He was wearing white Adidas cap and a gray "Primitive" brand jacket.
The other man is described as being between 5 feet and 11 inches tall and 6 feet tall and weighs about 180 pounds. He was wearing a white T-shirt and black shorts.
They were in a black Toyota Rav 4.