This is an archived article and the information in the article may be outdated. Please look at the time stamp on the story to see when it was last updated.
A man was arrested after a 14-year-old girl was followed and grabbed on her way home from school in Downey, and investigators believe he could have targeted more victims, police said Thursday.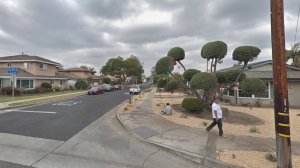 The teen was approached by a man around 2:20 p.m. Wednesday while walking near the intersection of Rives Avenue and Brunache Street, the Downey Police Department said in a news release.
The man asked her name, but she refused to engage him and simply kept walking, officers said.
But then, she felt him grab her buttocks from behind. By the time she turned around, he was running south on Rives Avenue.
The girl immediately reported the sexual battery to police, describing the suspect to officers.
A short time later, detectives identified the suspect as 28-year-old Sala Robert Pires. The victim positively identified Pires as the man who groped her.
He was found at a home in the 7800 block of Stewart and Gray Road and arrested on suspicion of lewd acts with a child, a felony, police said. He was taken into custody around 5:25 p.m., inmate records show.
He was being held on $100,000 bail and expected to appear in court Friday, May 11.
Anyone who believes they may have information on a similar crime involving Pires can contact the Downey Police Department at 562-904-2308 or Detective Michelle Garcia at 562-904-2391.