This is an archived article and the information in the article may be outdated. Please look at the time stamp on the story to see when it was last updated.
After a man attacked a 14-year-old girl and tried to remove her clothing on an Ontario high school campus, police release video showing the assailant and asked for help Tuesday finding him.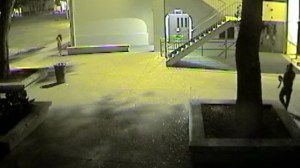 The incident occurred about 9:45 p.m. Saturday, Jan. 16, on the Chaffey High School campus after a school event, according to the Ontario Police Department, which described it as an attempted kidnapping and sexual assault.
The girl had just left band practice when an adult man approached her and grabbed her, police said.  He struggled, trying to remove her clothing, but was unsuccessful.
The teen broke free and was chased by him.
School staff saw her running and came to her aid, but the attacker ran away and was last seen running toward Fifth Street.
Grainy video from two surveillance cameras captured the man, and another showed the girl running away, looking back toward the man following her. Police said the latter video was from the end of the attack.
The incident has left the girl's family shaken, but grateful. He said she had just left band practice and was waiting for a ride with other students, who left one by one until she was alone. That's when the man grabbed her.
"She had a lucky break to get away from him," said father Rafael Leon. "She said she saw an opportunity ... and ran."
Investigators believe the man may have been lying in wait for a victim.
"We have video of him just wandering around," said Ontario police Sgt. Jeff Higbee.
The girl described her attacker as Hispanic, in his late 30s or early 40s, about 5 feet 10 inches tall, and about 200 pounds. He had black hair, brown eyes and a patchy unshaven beard.
He was last seen wearing a blue/gray long-sleeve hoodie with yellow writing on the sleeves, black jeans, and white athletic shoes, police said.
Anyone with information was asked to call Detective Naranjo at 909-395-2764 or the Police Department at 909-395-2001.