This is an archived article and the information in the article may be outdated. Please look at the time stamp on the story to see when it was last updated.
Officials on Thursday were searching for a Bay Area woman accused of striking a barber with her vehicle during a confrontation about her son's haircut.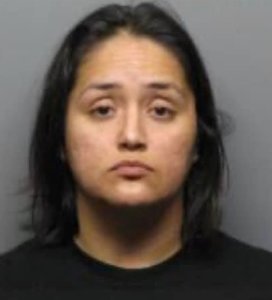 The incident began when Ruby Delgadillo, 28, became involved in a dispute with the 63-year-old male victim at Delta Barber Shop in Antioch around 3:45 p.m. Wednesday, the Antioch Police Department said.
The pair argued over the haircut the barber gave to Delgadillo's son, according to witnesses and the victim, police said. The situation escalated when the mother allegedly entered her Toyota Prius and intentionally hit the barber, pushing him through the glass storefront.
"She literally tried to kill me," the victim, Brian Martin, told KTLA sister station KRON in San Francisco. "I saw the look on her face as she hit the accelerator … one hand on the wheel and the other flipping me off."
Delgadillo then drove away with her son,  according to authorities.
Martin, an Antioch resident who's been a barber for some 30 years, was left with a leg broken in two places, he told KRON. He said he'd had Delgadillo as a customer before and she'd been "very pleasant" in past.
In this instance, the conflict "just escalated and escalated," Martin said. "I couldn't calm her down."
Investigators later identified the perpetrator as Delgadillo, a resident of Brentwood in the East Bay. She was driving a blue 2006 Toyota Prius with the California license plate 8LHB387.
Anyone with information can call police at 925-778-2441.