This is an archived article and the information in the article may be outdated. Please look at the time stamp on the story to see when it was last updated.
A man who led police on a slow-speed, yet erratic, pursuit along the Sepulveda Pass, and is apparently wanted in connection with shooting his sister-in-law in the San Fernando Valley over the weekend, was taken into custody early Tuesday.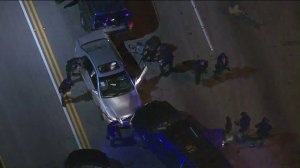 Los Angeles Police Department officials confirmed they believe the driver was Marcos Tulio Flores, who is wanted in connection with the shooting that occurred early Sunday.
The pursuit began about 10:45 p.m. Monday near the intersection of Sherman Way and Wilbur Avenue in Reseda and the driver eventually got on the southbound 405 Freeway and led police on a slow-speed pursuit in the Sepulveda Pass for hours. At times, however, the suspect sped up while authorities followed closely behind, aerial video from Sky5 showed.
The man was seen waving his hands and arms erratically from the driver's side window and the sunroof, and throwing items out of the car while police helicopter shined a light on the vehicle.
He also appeared to be shouting at officers from his vehicle with both hands off the steering wheel. He stopped his vehicle often, appearing to taunt officers, and at one point, the suspect appeared to fire a weapon at officers, aerial video showed.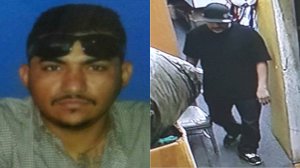 Eventually, officers used a precision immobilization technique several times before the driver lost control and officers crashed into him.
The driver then got out of the vehicle near the Sunset Boulevard exit in West L.A. and had to be subdued by a police dog before being taken into custody.
Officials were asking motorists to avoid the area. Traffic on the southbound 405 was being diverted because of the pursuit, LAPD officials said in a tweet, and the highway was backed up for miles.
The southbound side of the freeway remained closed until about 7 a.m. Tuesday.
The shooting that Flores is wanted in connection with occurred about 3:15 a.m. Sunday in the 17500 block of Gilmore Street in Lake Balboa. A 36-year-old woman was shot in the upper torso and is in critical condition, LAPD officials said.
Before the pursuit, police described Flores, 32, as being a documented gang member and was considered armed and dangerous and may be on drugs.
(1/2) #LAPD News: #Pursuit of Attempt 187 suspect has terminated. @lapdmetro resources utilized to take the suspect into custody.

— LAPD HQ (@LAPDHQ) January 10, 2017
(2/2) We thank the community for your patience as we work with our @CHPsouthern partners to restore traffic flow as quickly as possible.

— LAPD HQ (@LAPDHQ) January 10, 2017
KTLA's Nidia Becerra contributed to this this story.