This is an archived article and the information in the article may be outdated. Please look at the time stamp on the story to see when it was last updated.
Los Angeles police are asking for the public's help providing information on an Oct. 13 hit-and-run crash that killed a mother of two. Authorities released video of a possible suspect vehicle in the hopes that witnesses would come forward.
The crash happened last Saturday, Oct. 13, around 11:50 p.m. when a pedestrian, identified as 30-year-old Yana Lavrenteva, was crossing Ventura Boulevard, east of Louise Avenue, when she was hit by a vehicle heading east on Ventura. The victim was within a controlled, marked crosswalk at the time of the crash.
Police describe the suspect vehicle as a possibly silver, 1996 to early 2000 model Toyota 4-Runner. The driver did not stop to help the victim, but instead continued eastbound down Ventura Boulevard, the surveillance footage shows.
Investigators believe the SUV will also have visible body damage due to the force of the impact.
Laverenteva's friends told KTLA she was out at a restaurant in Encino with a group on Saturday when they decided to cross the street to get coffee. She stopped to take off her shoes, which were hurting her feet, when the crash happened.
According to LAPD Detective Lisset Fuentes, it appears the victim was struck more than once.
"From what we are getting from the witnesses, she was also run over after the collision, so it should have been obvious to the driver that they collided with somebody," she said.
Emergency personnel arrived and transported Lavrenteva to a local hospital in critical condition.
Her family said doctors declared her brain dead, and though she showed some signs of improvement on Monday, she eventually succumbed to her injuries.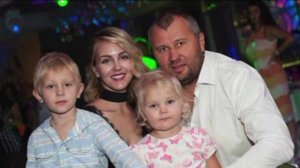 Olga Viter, one of the women who was with her, said the driver was speeding.
"It was no brakes before or after," she said.
A makeshift vigil now marks the spot where Lavrenteva was killed. Her husband said he's been there every day since she was struck.
"I was here yesterday — I spent here around 4 hours — and I saw 20 percent of the drivers never make a full stop here," Evgeny Lavrentev told KTLA.
Police held a news conference Thursday to ask anyone with information to come forward, and to remind the public that the law requires drivers to stop after any kind of crash.
"What may have just been a tragic accident is now a criminal investigation where somebody is looking at going to prison," LAPD Capt. Andrew Neiman said. "So again, as a reminder to everybody: Please, do the right thing. Follow the law. Stop, exchange information, even if you don't have a driver's license or insurance. Believe me, that is far less painful than the criminal prosecution that you'll face."
Authorities are asking anyone with information to contact Valley Traffic Detective Lisset Fuentes at 818-644-8021, or Detective Dan Menesez at 818-644-8028. During non-business hours, or on weekends, calls should be directed to 877-527-3247.
Anyone wishing to remain anonymous should call the L.A. Regional Crime Stoppers at 1-800-222-8477 or go to www.lacrimestoppers.org.
Correction: An earlier version of this story described the victim in critical condition. This story has been updated to say that the victim died of her injuries.