This is an archived article and the information in the article may be outdated. Please look at the time stamp on the story to see when it was last updated.
Officials are looking for a man who was captured on video tampering with water bottles at a Mission Viejo grocery store earlier this week.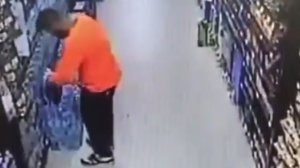 The incident occurred about 2:30 p.m. Monday inside the Ralphs at 27730 Santa Margarita Parkway, Orange County sheriff's officials said.
The man is seen in the video removing packages of water bottles off shelves, opening the packaging and apparently removing the lids off the bottles at the store. The man left before authorities arrived. The motive behind the incident is unknown.
All of the bottles that appeared to be tampered with were removed from the shelves and the water was expected to be tested at the Orange County crime lab.
It will take about two weeks to get the results, said Carrie Braun, a public information officer for the Sheriff's Department.
"Obviously, tampering with any kind of food product at a grocery store is very concerning," Braun told KTLA. "We don't know what the intentions of the individuals were, so that's why are investigators are interested in speaking with him."
The man is described as being in his late 20s to early 30s, is about 5 feet 10 inches tall and weighs about 185 pounds.
Anyone with information about the man or the incident can call the sheriff's dispatch line at 714-647-7000.
Correction: A previous version of this story listed an incorrect address for the Ralphs store involved. This story has been updated.
The @OCSDMissionV is looking for guy in this video who they say entered grocery story on June 17 & started tampering with water bottles. Bottles were taken to OC Crime lab for inspection. @ktla @OCSheriff more info https://t.co/ok5uoZmHuZ pic.twitter.com/PHsq56skxs

— Chip Yost (@ChipYost) June 19, 2019