This is an archived article and the information in the article may be outdated. Please look at the time stamp on the story to see when it was last updated.
Two suspects were arrested after police released surveillance video showing two men, one of them armed, robbing a convenience store in Garden Grove on Monday.
Officers were called to the 7-Eleven at the corner of Nelson Street and Garden Grove Boulevard around 12:45 a.m., just after the incident had occurred, the Garden Grove Police Department said in a news release.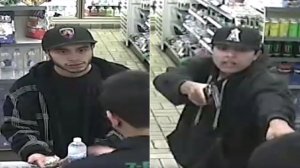 The men had gone up to the register to pay for a bottle of water when the clerk confronted one of them about an item he had snuck into his pocket, surveillance video from the store shows.
Just as that man takes the item out and sets it on the counter, the second man pulls out a black revolver and points it at the cashier, police said.
Both men appear to order the store employee to hand over cash, but he doesn't. Eventually, the man who had pocketed the item jumps over the counter and steals an unknown amount of money from one of the registers.
The armed man can also be seen trying to make off with another cash register's screen.
Both men fled the store and ran north to Pearl Street, before jumping in a silver, four-door Honda from the '90s and heading west on Pearl Street, officials said.
Neither the 26-year-old cashier nor at least one other person in the store at the time were hurt, according to police.
It was likely a "very traumatic incident" for the clerk, Lt. Patrick Gildea told KTLA.
Ivy Herrera, who works as a cashier at another store nearby, said the man was hired recently and was shaken up by the incident but has been given time off to recover.
"It's scary," Herrera said. "You think about it with every customer now."
Both suspects were unmasked the entire time, with their faces clearly visible on surveillance footage.
After fielding numerous leads from the community, officers arrested two Anaheim residents, identified as 18-year-old Rafael Eloza and Abel Estrada, 20.
The two were found in a vehicle near the intersection of Ninth Street and Orangewood Avenue in Garden Grove and taken into custody around 10:40 p.m. Both would be booked into Orange County Jail on suspicion of armed robbery, authorities said.
Anyone with further information can contact Garden Grove police at 714-741-5800.