This is an archived article and the information in the article may be outdated. Please look at the time stamp on the story to see when it was last updated.
Police released surveillance video on Tuesday showing the suspect in a violent, takeover-style robbery at a dental office in Van Nuys in hopes that the public can help identify the man.
The man was partially dressed in scrubs when he entered the office, in the area of Van Nuys Boulevard and Sherman Way, through an unlocked door around 7:30 a.m. on Aug. 30, Los Angeles police said in a news release.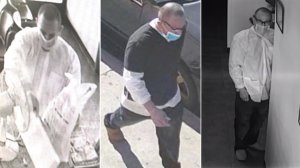 The practice hadn't yet opened for the day, and the suspect donned dental garb — including a lab coat, surgical mask, protective eyewear and latex gloves — before he started taking property, investigators said.
The office manager came through the front door while the man was rifling through their things, and the suspect confronted him. The man forced the employee into an office at the business' rear, where he stole his personal belongings, police said.
The manager stayed in the room while the suspect continued removing the business' things, officials said.
The suspect apparently wasn't noticed by the dentist, who came in through the front door and headed into the dental examination room.
The suspect spotted the dentist, however, and armed himself with a sharp tool before following him into the exam room, where he allegedly confronted and assaulted the dentist.
Other employees came into the office while the dentist was being attacked and heard the commotion, according to police.
When they went into the exam room, where the suspect was continuing his assault, the attacker ran from the business on foot, detectives said.
The dentist had been struck by the sharp tool and sustained minor contusions, but declined treatment from the paramedics who responded to the office, officials said.
More than a month after the incident, investigators still have not been able to identify the perpetrator.
LAPD describes the suspect as a Latino man in his late 20s or early 30s with short, dark hair. He is of medium build and measures around 5 feet 9 inches tall.
Anyone with information can contact Detective Cheun at 818-374-0081. Anonymous tips may be submitted via Crime Stoppers at 800-222-8477 or www.LACrimeStoppers.org.