This is an archived article and the information in the article may be outdated. Please look at the time stamp on the story to see when it was last updated.
New surveillance footage has given police a lead in a case involving a Harbor City man who was killed in his own backyard earlier this year.
Officers are seeking the public's help in identifying two of the men seen emerging from a white van outside the victim's residence, Los Angeles police said in a statement issued Monday.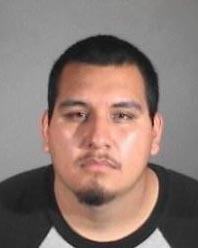 Police have identified the third man caught on surveillance as 22-year-old Harbor City resident Andy Leonel Garcia but are unsure of his whereabouts.
The victim, Juan Ignacio Alcala, was shot dead Jan. 18 around 4:25 p.m. in the backyard of his home in the 1200 block of West 256th Street, according to LAPD.
Investigators determined the 29-year-old was standing in his yard when his killers approached and shot him multiple times.
The new footage shows three men parking a white van, described as a 1998 Chevrolet Astro, outside Alcala's home. Garcia was the driver, according to police, and is seen parking the van on 256th Street before getting out of the vehicle with two other men.
A fourth man who was already at the location is seen interacting with them, but police did not say whether they believe he was involved.
Detectives believe the three men then ran into Alcala's backyard and shot him.
Following the shooting, the men ran back to the van and fled southbound on Normandie Avenue, police said.
Anyone with additional information is urged to call detectives Maffei or Romulo at 310-726-7882 or 310-726-7880.