This is an archived article and the information in the article may be outdated. Please look at the time stamp on the story to see when it was last updated.
Authorities are looking for information about a woman who allegedly drugged and robbed victims she met at a Hollywood nightclub.
The woman met two men at a high-end club on March 5 and returned with them to their residence, according to Detective Joseph Hampton with the Los Angeles Police Department.
The woman "singled out some affluent, single men who were wearing high-end luxury watches," Hampton said, and is seen on surveillance footage entering and exiting an apartment building in Studio City.
At some point, an unidentified substance was used to poison or drug the two men, investigators said, and they were rendered incapacitated.
"She made them a drink with their alcohol and mixers and she handed them a drink, and they believe that in that drink was some sort of drug or toxin that knocked them out," Hampton said.
The woman then took jewelry and money from them and their residences, officers said.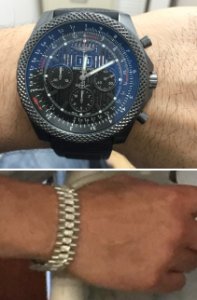 Authorities also did not disclose the victims' genders, but images released of some of the items stolen — a watch and bracelet — both appear to belong to men.
The suspect is described as a 20-year-old black woman who is 5 feet 6 inches tall and weighs around 120 pounds. She has a large tattoo on her left leg, left hip and back, officers said.
Police believe the woman could be connected to similar incidents in the West Los Angeles area.
Anyone with information can call LAPD's North Hollywood burglary detectives at 818-754-8377, or at 877-527-3247 during non-business hours. Anonymous tips can be submitted via 800-222-8477.