This is an archived article and the information in the article may be outdated. Please look at the time stamp on the story to see when it was last updated.
Police were asking for the public's help Tuesday in identifying a man who attempted to kidnap two children who were playing outside their home in the Harvard Heights area of central Los Angeles.
The attempted abduction occurred around 6:50 p.m. on Monday as the 2 and 3-year-old would-be victims were playing with several other children in the courtyard of an apartment complex in the 1700 block of South Westmoreland Boulevard.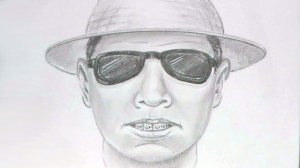 The man scaled a chain-link fence at the back of the complex and grabbed the toddlers, according to a news release from the Los Angeles Police Department.
As he attempted to carry them away, the other children began to scream, the release stated.
At that point, the man dropped the toddlers and ran away.
He was described as a male Hispanic, about 25 years old, standing 6 feet tall, and weighing about 150 pounds, according to the LAPD.
He had black hair and brown eyes and was wearing a wide-brimmed hat, dark sunglasses, a red T-shirt, blue jeans and white shoes.
The man was also described as having blue dental braces, the release stated.
Anyone with information was urged to call LAPD's Olympic Area Robbery Detectives at 213-382-9460.