This is an archived article and the information in the article may be outdated. Please look at the time stamp on the story to see when it was last updated.
Warning: A photo below may appear graphic to some readers.
Police asked for the public's help Monday in identifying a man who violently struck an 85-year-old woman in Koreatown over the weekend.
The attack happened Saturday afternoon as Mi Reum Song walked to a supermarket on Olympic Boulevard near Vermont Avenue, Los Angeles police said. A man reportedly hit the woman on the forehead, knocking her unconscious and causing her head to bleed profusely.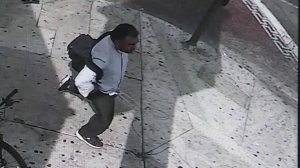 Song was treated for head injuries at a hospital, according to authorities.
"She's still in a lot of pain right now; she's still healing," Officer Hee Bae Cho said at a news conference on Monday.
He said investigators planned to ask the victim about the suspect at a later time.
Capt. David Kowalski said the department obtained surveillance video from a nearby store showing a man "clearly running" from the area where the incident happened. The footage did not capture the crime.
A motive remained unclear as the man did not take anything from Song, Kowalski said. And although there have been similar attacks in the Los Angeles area last year, the department said it has not connected the beating to other incidents.
The officer asked any witnesses to come forward, noting the incident happened in one of the neighborhood's busiest areas.
Authorities described the assailant as a Hispanic man about 35 years old, 5 feet 5 inches tall and 150 pounds.
The victim's granddaughter, Yujin Ko, told KTLA Sunday evening that Song has already forgiven her attacker.
"She really has no bad bone in her body," Ko said. "She's the sweetest person."
Anyone with information can contact investigators at 213-382-9393. Those who wish to remain anonymous can call 1-800-222-8477 or visit lacrimestoppers.org.