This is an archived article and the information in the article may be outdated. Please look at the time stamp on the story to see when it was last updated.
Long Beach police shot and killed a man armed with a knife Saturday after he allegedly broke into his longtime neighbors home and killed his dog, officials said.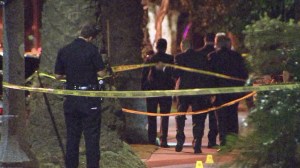 Police responded to reports of an armed robbery in the 300 block of Cherry Avenue (map) around 3:55 p.m., Long Beach Police Sgt. Brad Johnson said.
A man allegedly entered his neighbors home with a knife when the resident fled and called 911.
The armed man then killed his neighbors dog for unknown reasons.
When officers arrived they shot and killed the man, Johnson said. Details surrounding the shooting were not provided.
A woman who lived near the scene said she heard around 10 gunshots and wanted to know why officers opened fire.
"It makes no sense that there were no scuffles, or screams, or a 'stop' or mega-phone activity. Silence between when the sirens came and 10 shots were fired," neighbor Sarah McGovern said.
The two men involved had been neighbors for 10 years and did not have a history of conflict, Johnson said.
The incident was originally described as an armed robbery, but officials later stated the investigation was ongoing and the initial reason for entry was unknown.