This is an archived article and the information in the article may be outdated. Please look at the time stamp on the story to see when it was last updated.
Police shot and killed a man carrying what turned out to be an airsoft rifle late Saturday afternoon in Long Beach, authorities said.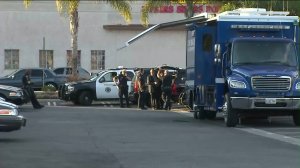 Officers responded shortly before 5 p.m. to a caller's report of a man toting "an Uzi-style gun" in the area of Locust Avenue and 21st Street, Sgt. Megan Zabel, spokeswoman for the Long Beach Police Department, said at a news conference. The man was said to be speaking with three others who were inside a vehicle.
"Officers arrived on scene within minutes and they located the suspect and the vehicle that was described," Zabel said. "At this point an officer-involved shooting occurred."
The man was struck by gunfire and police rendered aid to him, according to the sergeant. He was subsequently pronounced dead at the scene.
The Los Angeles County coroner's office later identified him as 21-year-old Lionel Gibson of Long Beach.
No officers were injured in the incident. It was unclear what prompted them to open fire.
The three male individuals in the vehicle, one of whom was in possession of a handgun, were detained for questioning, police said.
An airsoft rifle was also recovered near the man who was shot, according to Zabel.
"We don't have reason to believe that there was an exchange of gunfire," the sergeant said.
Video: Sgt. Zabel on replica airsoft gun, and handgun found at the scene https://t.co/5OZlYABVxO

— Gregory Yee (@GregoryYYee) May 8, 2016
An airsoft gun, marked by an orange tip on its muzzle, is a "replica toy that shoots 6mm plastic pellets through compressed air and a piston," according to airsplat.com. "It's used for sport, competition, and military training"
Referring to the rifle involved in the incident, Zabel said to reporters: "I've seen a picture of it. It looks very realistic."
A witness told the Long Beach Press-Telegram that she saw about seven officers who appeared to be shooting at a red SUV in a driveway.
"I saw the smoke go off after the second volley," Toni-Lee Swenson said.
A section of southbound Long Beach Boulevard was closed near the scene, prompting traffic congestion in the area, according to the newspaper.
KTLA's Geoff Peters contributed to this story.