This is an archived article and the information in the article may be outdated. Please look at the time stamp on the story to see when it was last updated.
Family members of a woman struck and killed by a hit-and-run driver in South Los Angeles on Christmas Day stood alongside police Friday as they asked the public for help with the investigation.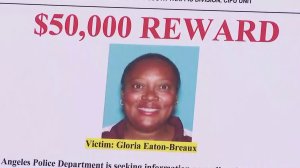 The plea was made at a 10:45 a.m. news conference in the Leimert Park neighborhood in hopes of gathering information that will lead to the driver who struck and killed Gloria Eaton Breaux.
The crash occurred about 9 p.m. Monday when the driver of a black car struck Breaux in a marked crosswalk near the intersection of Coliseum Street and Crenshaw Boulevard and fled the scene without rendering aid.
Although police originally said the suspect vehicle was a Nissan Murano, they now say the driver of that vehicle is only wanted for questioning. They believe the car that actually struck Breaux was another black sedan, possibly a Nissan Altima or Honda Civic or Accord. Detectives are reviewing additional surveillance footage of the incident and hope to obtain a license plate number.
Breaux had just left Denny's with her son, Anthony, where the two had been celebrating the 14-year-old's Dec. 25 birthday, police said. The two had also planned a trip to Dave & Busters later in the week with one of his closest friends.
Anthony was riding a skateboard and managed to get across Crenshaw Boulevard ahead of her. During Friday's press conference, he said his mother, who had leg problems and diabetes, was limping and stopped in the middle of the street.
"Two of the cars stopped and went around, but one of them actually hit her," he said. "She was left on the ground where she was breathing for a couple of seconds, but I don't know what happened next. I know I was there the whole time with the officers."
A witness to the incident who did not wish to be identified previously told KTLA he overheard someone with the victim frantically pleading for help and attempting to console her, saying "I'm not going to let you go."
Breaux was taken to a local hospital, where she later died.
The skateboard, which he'd received that day as a Christmas gift, was stolen while Anthony tended to his mother. "My main priority was my mom because I love her the most," he recalled.
To console him, Los Angeles police officers presented Anthony with a new skateboard on Friday, along with a helmet and two wrapped gifts for his birthday.
Anthony beamed and expressed his thanks, but he simply hopes his mother's killer will be caught.
"My mom was a very loving person and she outreached and helped the community," he said. "She was a giving and loving person. All we want is justice."
Anyone with information was asked to call the Police Department's South L.A. Traffic Division at 323-421-2577. A $50,000 reward has been attached to information that leads to an arrest in the case.