This is an archived article and the information in the article may be outdated. Please look at the time stamp on the story to see when it was last updated.
A Los Angeles Police Department detective said he was "concerned" Thursday about the well-being of a grandmother who was last seen in downtown Los Angeles more than a month ago, and told the media it was possible that foul play was involved.
Zakiyyah El A'min, 60, was with Kevin Walker Jones when she was last seen at about 1 p.m. on March 23 at the New Terminal Hotel on Seventh Street in downtown Los Angeles (map), Deputy Chief Kirk Albanese of the LAPD said during a news conference Thursday.
On March 24, Jones, 48, was seen removing items from his apartment and has not been seen since, Albanese said.
Investigators believe Jones, who is considered a person on interest in the case, is somewhere in Buffalo, New York, or the Niagra Falls area, according to Albanese.
LAPD's elite Robbery-Homicide Division was handling the case, the deputy chief said.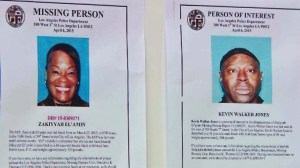 El A'min was reported missing by her family after failing to show up for work on March 24 and March 25, police said. Her apartment is on 1000 block West 39th Street in Exposition Park, according to an LAPD flier.
"It's not like her. … We want to know where she's at," El A'min's brother, Eric Henry, said. "We feel empty."
New surveillance video released Thursday shows an unidentified man and woman moving items from Jones' apartment on March 28.
Authorities are hoping to identify and talk to both people.
Jones and El A'min have been dating for about 11 years off-and-on and have had "complications," El A'min's daughter, Aqueelah Dixon, said.
There has been no activity on El A'min's bank account or cellphone since her disappearance and that has investigators "concerned about her well-being," Detective Salaam Abdul of the LAPD said.
"We do believe there's a possibility, given Mr. Jones's criminal history, that there could be some foul play involved," Abdul said.
Jones has a history of domestic violence and assault, Albanese stated at the news conference.
Jones was described as a black man, 6 feet tall, weighing 200 pounds with a shaved head and brown eyes.
Dixon spoke alongside police at the news conference and said she was confident that Jones would be found.
"We will find you; I'm not going to stop until we do. You have answers and I need them," Dixon said.
Dixon began to cry when she was asked what she would like to say to her mother.
"If you are out there, just know that I love you and I refuse to give up until we find you," she said.
Police have asked the public for help in their search for El A'min, who stands 4 feet 11 inches tall and weighs about 150 pounds with brown hair and brown eyes.
Anyone with information on El A'min's whereabouts was asked to contact the LAPD Missing Persons Unit at 213-996-1800.
Anyone wishing to remain anonymous should call Crime Stoppers at 800-222-8477.
#LAPD: Deputy Chief Albanese: Asking public's help in finding #missing Zakiyyah El'Amin & locating person of interest pic.twitter.com/hgQF8ZoLuV

— LAPD HQ (@LAPDHQ) April 30, 2015
https://twitter.com/LAPDHQ/status/593827412946722816/photo/1
#LAPD: Family of #missing Zakiyyah El'Amin asking people w/ info to come forward. #Crimestoppers Text tips: 274637 pic.twitter.com/nnoy4GBnC2

— LAPD HQ (@LAPDHQ) April 30, 2015