This is an archived article and the information in the article may be outdated. Please look at the time stamp on the story to see when it was last updated.
An investigation was underway Monday after a police vehicle struck and killed a naked man lying on a street in the West Adams district of South L.A., according to LAPD.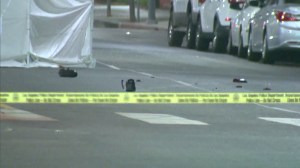 Reports of a naked man running around public streets near Hillcrest Drive and West Adams Boulevard were made to police around 10:20 p.m. Sunday, according to Los Angeles Police Department officials.
As two responding officers drove to the scene, they ran over the man who was lying on the street near Buckingham Road and West Adams Boulevard (map) about two blocks from the calls location.
"It's very unusual for someone to be lying in the street here," LAPD Sgt. Andy Neiman said. "We don't know if this is a case of mental illness or if this individual was under the influence of alcohol or narcotics. Certainly all that will be part of the investigation and hopefully we will find that out."
The man appeared to be a white man in his 50s or 60s, Neiman said.
Police said the vehicle had both lights and sirens on at the time of the crash, but some witnesses did not report hearing sirens. Officers added that it was not uncommon to turn off sirens when approaching a scene.
The patrol car had a camera recording at the time of the crash, and investigators were reviewing the footage.
Speed was not believed to be a factor since the patrol car stopped within 25 feet of the collision, investigators determined.
West Adams Boulevard was expected to be closed between West Boulevard and Buckingham Road until around 7 a.m. due to the investigation.