This is an archived article and the information in the article may be outdated. Please look at the time stamp on the story to see when it was last updated.
Police are asking for the public's help in providing information on individuals who may be behind a recent increase in crimes involving paintball guns in South Los Angeles.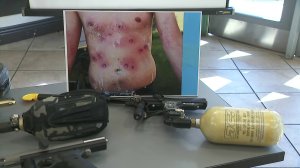 Compressed-air guns normally reserved for use at a recreational paintball range are increasingly being used in robberies, aggravated assaults and vandalism, Los Angeles Police Capt. Lee Sands said in a Friday press conference.
So far this year in the area policed by LAPD's South Bureau, 68 people have been assaulted in attacks involving paintball guns, Sand said. That number represents an increase of 183 percent over last year, when only 24 people had been involved in such attacks between January and August.
That compares with 33 people shot with pellet guns this year citywide, according to LAPD.
Sands believes the increased use of paintball guns is tied to an overall rise in the popularity of recreational paintball.
"When paintball guns are taken out of those venues, and brought to the streets of the city and used to commit crimes, this is when a problem occurs," he said.
Officials cited an incident involving 9-year-old Aron Marrujo, who was playing football with about 15 other kids outside a home where a family party was being held when someone drove by and fired several rounds from a paintball gun.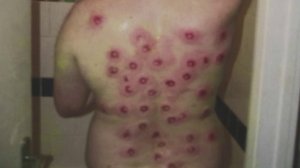 Marrujo was struck in the face, just above his eyeball, police said. His 16-year-old cousin was also struck after he dove in front of Marrujo to block the paint-filled pellets, thinking at the time that they were real bullets, his family said.
"Many of you know that paintballs travel at 300 feet per second and Aron is very lucky that the paintball did not hit his eye," Sands said. "He could have been very seriously injured as a result of that."
Aron has slight autism and was already afraid of being outside, his mother said.
Four people were arrested following the incident, three of whom are juveniles, and charged with assault with a deadly weapon, according to LAPD Detective Arnold Castellanos.
Two other recent arrests involving paintball guns being fired from cars were made along Figueroa Street, said LAPD South Bureau Chief Phil Tingirides. In one of the cases, the gun resembled an assault rifle, he said.
"We're highly concerned that we're going to end up with an officer-involved shooting of somebody who does not have a firearm but yet a paintball gun," Tingirides said. "When you see the weapons, they look very real. When you hear them…they sound very much like a bullet."
Officials emphasized that charges will be pursued in such cases, despite compressed-air guns being considered less dangerous than actual firearms. Charges would be based on the amount of bodily harm inflict and could be felony charges, Tingirides said.