This is an archived article and the information in the article may be outdated. Please look at the time stamp on the story to see when it was last updated.
A Pomona motorcycle police officer was critically injured in a collision with an SUV Tuesday morning and was hospitalized with head injuries, authorities said.
The 32-year-old officer was responding to a fatal hit-and-run crash that occurred about 6:30 a.m. in the 2200 block of North Garey Avenue.
While en route, the officer was involved in a separate crash a little over a mile to the south, in the 1400 block of North Garey Avenue at Garfield Avenue, according to a Pomona Police Department news release.
He was ejected from his motorcycle after colliding with an SUV, authorities on scene said. The officer was headed north on Garey when he struck the SUV as it tried to make a left turn, a CHP official on scene said.
The police officer suffered head trauma and was taken to County-USC Medical Center for treatment.
Both vehicles remain at the crash site, and the California Highway Patrol was investigating. The SUV appeared to have impact damage on its left front end, with the passenger's side mirror damaged and the body and fender dented. Debris remained on the roadway all around the motorcycle.
The 22-year-old driver of the SUV has been taken into police custody for questioning, and investigators were trying to determine if he was distracted or impaired when the crash occurred.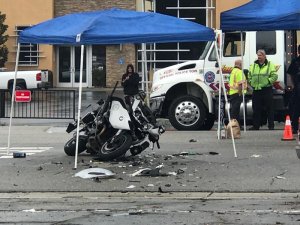 The officer's name was not released, but authorities said he'd been with the Police Department for nine years.
CHP Office Rodrigo Jimenez said on scene that he had worked with the injured officer in past.
"It's hard to respond to any officer down, especially when you know that officer," Jimenez said.
Garey Avenue was closed in both directions and the public was urged to avoid the area.
In the initial hit-and-run crash, a pedestrian was killed, authorities on scene said. He was identified as Charles Washington, 60, and described as a transient who lived in the area.
A longtime friend of the victim told KTLA Washington was a "good guy" who was going through hard times.