This is an archived article and the information in the article may be outdated. Please look at the time stamp on the story to see when it was last updated.
A man who allegedly shot and killed a Pomona police officer and injured another has been taken into custody following an 15-hour standoff with authorities Saturday.
Isaias De Jesus Valencia, 39, is suspected of killing Greggory Casillas, 30, who had been with the department since 2014 and leaves behind a wife and two small children, officials said. Los Angeles County coroner's officials had originally given a different spelling of the officer's first name.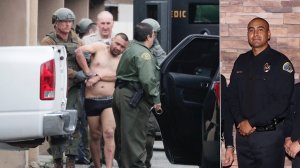 Valencia was expected to be charged with murdering Casillas and the attempted murder of the second officer, who has not been identified, L.A. County sheriff's officials said.
The incident began when police responded to the 1400 block of South Palomares Street about 9 p.m. Friday to a call about a reckless driver, L.A. County Sheriff's Capt. Christopher Bergner told reporters Saturday morning.
Responding officers found the vehicle and a short pursuit ensued when the driver failed to stop. The driver then got out of the vehicle after crashing and ran into an apartment complex in the area.
Valencia then allegedly barricaded himself into a room inside an apartment and eventually shot through a door, wounding the two officers, Bergner said.
One officer was shot while attempting to arrest the man, while a second approached to help the first officer and was shot in the face, according to L.A. County Sheriff Jim McDonnell.
It was unclear whether Casillas was the officer who was one shot in face. Both were rescued by a third officer, McDonnell said.
Casillas died at the hospital. The other officer was undergoing surgery Saturday morning and is expected to survive.
It is with a heavy heart that I must report that one officer did not survive. The second officer is in stable condition.

— Chief Michael Olivieri (@olivieri_ppd) March 10, 2018
Before the suspect had been detained, Pomona Police Chief Olivieri tweeted about 1:10 p.m. that he would not talk about the fallen officer "while the suspect may be watching tv [sic]."
I am at the Command Post, as soon as this barricade situation comes to an end, I will talk briefly to the media about our fallen officer. I am not going to talk about my officer while the suspect may be watching tv.

— Chief Michael Olivieri (@olivieri_ppd) March 10, 2018
SWAT officers and crisis negotiators attempted contact the suspect for hours, and tear gas and a police K-9 were also used, sheriff's officials said. Flash bang grenades were also used to try and get the suspect out, video from the scene showed.
Valencia was was finally taken into custody about 2 p.m.
Heard a loud bang & SWAT calling suspect to surrender and come out with hands up. One Pomona Police Officer shot & killed and one injured in an apparent shootout with barricaded suspect inside an apartment at Phillips and Palomares. @latimes @latimesphotos @LANow pic.twitter.com/eKqWV5udkM

— Irfan Khan عرفان (@latfoto) March 10, 2018
The apartment complex had been evacuated with only Valencia remaining inside, Bergner said.
A crashed pickup was also at the scene and in an area cordoned off by police, but Bergner did not confirm if that is the vehicle the suspect was driving.
Police escorted the fallen officer's body from Pomona Valley Hospital Medical Center to the Los Angeles County Coroner's Office Saturday morning, and a memorial vigil was held at the Pomona police headquarters later that night.
Casillas had originally joined the department as a records specialist before becoming a jailer in 2015.
He later completed San Bernardino County Sheriff's Department training and was sworn in as an officer last September. He was just completing his field training when he was shot late Friday night.
"He left his family at home to protect yours, and his ultimate sacrifice will never be forgotten." Olivieri said.
Casillas was a Los Angeles native who attended both high school and college in the area, the police chief said, without naming specific schools. He is survived by his mother and father, as well as wife and two small children.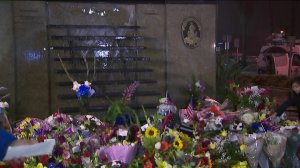 Speaking at the memorial ceremony Saturday night, Upland Police Capt. Marcelo Blanco said the frequency of officers dying on the job is troubling.
"It's happening too often in our profession throughout the nation, and I wish I had an answer on how to put an end to it," he said.
Amber Anaya, who lives near the scene, told KTLA that her husband died earlier this year and that she was worried about her children's safety.
"I will not lose my children," she said Friday night.
Paul Ricarte, who lives nearby, said he heard several shots and got under the bed.
"We tried to stay there for as long as we could," he said, calling the incident "shocking." "I'm just glad I got my son out."
Several Southern California law enforcement agencies expressed their condolences to the Pomona Police Department Saturday morning.
Los Angeles Police Chief Charlie Beck tweeted that his officers will be wearing black mourning bands to honor Casillas.
KTLA's Irving Last and Erika Martin contributed to this report.
A Pomona Police Officer was killed in the line of duty and another was injured. Our thoughts are with the Pomona Police Department and the families of these officers. We stand with you during this sad time. #police #pamonapolice pic.twitter.com/c6Id0G532W

— Ventura Police (@Ventura_PD) March 10, 2018
Another hero gone too soon. These tragedies are occurring too often, and the pains of sacrifice will never be forgotten. Our thoughts and prayers are with the @PomonaPD today. https://t.co/l4LwuO36lz

— Chief Charlie Beck (@LAPDChiefBeck) March 10, 2018
The news is tragic this morning as we learn a @PomonaPD officer was shot and killed in the line of duty. Another officer was also shot and wounded. Join us in mourning the loss. Let's all keep their families and loved ones in our thoughts and prayers pic.twitter.com/53xOy7H5Wy

— LAPD HQ (@LAPDHQ) March 10, 2018
The @PomonaPD family are in our thoughts and prayers. Earlier this morning, one of two of their finest officers succumbed to their injuries from a gun shot wound. The second officer is recovering from his injuries. #RIP #EOW

— L.A. County Fire Department (@LACoFDPIO) March 10, 2018
Orange PD's thoughts and prayers are with the @PomonaPD slain officer, his family, and all the men and women in our LE family. Wishing a speedy recovery to their injured officer.

— Orange Police Department (@CityOfOrangePD) March 10, 2018
We don the uniform this morning with heavy hearts as we've lost a brother in #Pomona. Please keep the men and women of the @PomonaPD / @PomonaPOA in our prayers. RIP Brother. pic.twitter.com/TAaegYDtVK

— Burbank Police (@BurbankPD) March 10, 2018
When an officer is killed in the line of duty, it's not an agency that suffers, it's a nation. @PomonaPD @olivieri_ppd #RIP #LODD #thinblueline pic.twitter.com/3RWeDCNYos

— Montebello PD (@MontebelloPD) March 10, 2018
Sending our thoughts and prayers to @PomonaPD and @olivieri_ppd on the loss of their officer. #LODD ^DC

— Arcadia PD (@ArcadiaPD) March 10, 2018
All of us at @SDSheriff send our heartfelt condolences to @PomonaPD @olivieri_ppd over the loss of one of their officers in the line of duty. Our thoughts and prayers are also with a second Pomona Police Officer who was wounded. To all law enforcement, stay safe. pic.twitter.com/H0KI7tSTVv

— San Diego Sheriff (@SDSheriff) March 10, 2018