This is an archived article and the information in the article may be outdated. Please look at the time stamp on the story to see when it was last updated.
A week of major wind-whipped fires across Southern California has caused significant air pollution and health problems.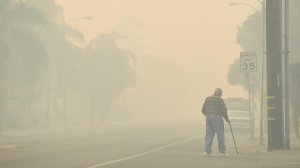 The air quality is worst in and around fires burning from Ventura County to San Diego County, but the smoke has traveled to places not threatened by the flames. And with the Santa Ana winds dying down, officials say the smoke could stick around for a while.
Phil Moyer, air quality specialist with the Ventura County Air Pollution Control District, said a winter storm or new Santa Ana winds could lift the smoke out of Ojai, which is heavily polluted. But there's no rain in the forecast and winds would have to be very strong to reach the low-lying community, and would likely intensify the fires.
"They're going to see stacks of smoke for a while," he said.
Read the full story on LATimes.com.