This is an archived article and the information in the article may be outdated. Please look at the time stamp on the story to see when it was last updated.
A screaming baby or a child running through a dining room is never a pleasant sound or sight for diners, but one Northern California restaurant has decided to do something about the behavior of its pint-sized diners.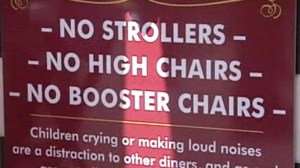 Shake's Old Fisherman's Grotto on Fisherman's Wharf in Monterey has banned loud children from its dining room. A sign out front reads: "Children crying or making loud noises are a distraction to other diners, and as such are not allowed in the dining room."
In addition to banning noisy kids, the sign also prohibits strollers, high chairs and booster chairs. Diners looking for a peaceful, quiet meal may let out a sigh of relief, but those with small children may see it as just another way of saying: "You're not welcome here."
"I'm completely shocked because I never had that happen," customer Niki Riviere told KSBW-TV. She left after not being able to get a high chair for her 6-month-old baby. "Usually they cater, at least have a high chair for the child, but it seemed like they didn't want any child. They said the child can't make any noises so they turned us away."
 Click here to read the full story on LATimes.com.