This is an archived article and the information in the article may be outdated. Please look at the time stamp on the story to see when it was last updated.
The popular and often crowded Runyon Canyon hiking trails will be closed from April to July due to pipe repair work, Los Angeles City Councilman David Ryu announced Wednesday.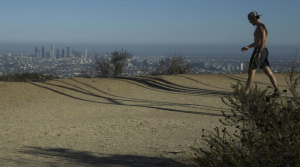 The Runyon Canyon Park Yoga Field  is expected to remain open.
The temporary closure of the trails — located in the Hollywood Hills West area, just west of the 101 Freeway and Hollywood Bowl — is part of the Runyon Canyon Water System Improvement Project.
A 1-mile stretch of a 6-inch pipe that runs through the park will be replaced as part of the project, which aims to reduce pipe breaks and  improve water quality for the surrounding community, Ryu stated in a news release.
The announcement came after another temporary closure of the park was postponed.
In that closure, initially planned to take place from March 11 through April 5, local roads were expected to be restored. Another date has not been announced.
More information on the closure is scheduled to be announced Thursday morning at a news conference hosted by Ryu, and officials with the Los Angeles Department of Water and Power, City of Los Angeles Department of Recreation and Parks, Los Angeles Fire Department, and Friends of Runyon Canyon.