This is an archived article and the information in the article may be outdated. Please look at the time stamp on the story to see when it was last updated.
A beloved San Fernando pastor was in the emergency room Wednesday night following an attack by a former parishioner that morning left him with a broken hip and laceration on his head.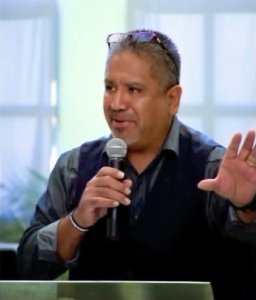 Rudy Trujillo, known to many in the community as "Pastor Rudy," was rushed to the hospital around 11 a.m. after the assault in the 700 block of North Maclay Avenue, according to San Fernando Police Chief Anthony Vairo. Rudy's son, Joshua Trujillo, said his father was getting out of his car between meetings when he was struck by someone he had not seen since the man left his congregation a few years ago.
"It's tough but he's a fighter," Joshua, 34, told KTLA. "Everybody who knows him knows that he's one tough guy. He's cracking jokes about the stitches in his head already."
The suspect is not in custody. Police know the man's name but are not releasing it as it could interfere with their investigation, San Fernando Police Sgt. Irwin Rosenberg said.
"We really don't know what the motive is, we just know that he was known to Pastor Rudy," Rosenberg told KTLA.
Police Chief Vairo described the suspect as a Hispanic man in his 30s or 40s who was driving a white Dodge van.
San Fernando's mayor, Robert Gonzales, called the pastor "a strength in our community" as he urged residents who witnessed the attack to turn over any evidence or information they may have to the police.
Rudy was expected to undergo full hip replacement surgery Wednesday night, his family said.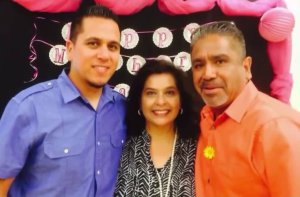 The pastor is a well-known and heavily involved fixture in the San Fernando community. Along with wife, Annette Trujillo, Rudy leads the congregation at Faith Center in San Fernando and performs outreach with L.A. Mayor Eric Garcetti's Gang Reduction and Youth Development program. He is also active in local government, serving as chair of the San Fernando Transportation and Safety Commission.
Earlier this month, Rudy spoke at the vigil for Eli Rodriguez, the San Fernando teen whose disappearance and accidental drowning amid severe rain storms shook the community.
One of the pastor's latest projects was organizing an event dedicated to gang and drug intervention titled Stop the Violence — arranged to take place at 777 N. Maclay Ave., near the site of Wednesday's attack. The gathering will go on as planned, his son Joshua said.
Joshua told KTLA that, after the shock of the violent incident, it will be more important than ever for the community to realize that recovery and strength come through forgiveness, not retaliation. He posted a statement on Facebook urging those close to the pastor not to resort to hatred.
"While we understand, even share your anger, we must never forget that what we preach, especially pastor Rudy Trujillo, is that we are to forgive and have mercy upon those who trespass against us," he wrote in the post. "We never imagined this would be easy, and after today, we know it will not. As Christians, we are committed to the teachings of Jesus. Jesus teaches us to love even those who hate us and violently attack us. He taught us to forgive those who wrong us."