This is an archived article and the information in the article may be outdated. Please look at the time stamp on the story to see when it was last updated.
Port of Los Angeles truck drivers from three companies walked off the job Monday in Carson and Long Beach to protest what they called "unfair labor practices, including harassment, intimidation, and other violations of Federal labor laws," according to the group Justice for Port Drivers.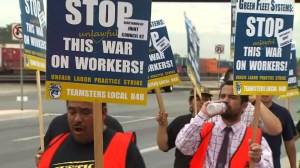 The 36-hour work stoppage started at 5 a.m and included workers from Green Fleet Systems, American Logistics International and Pacific 9 Transportation.
Among the reasons for the strike, truck drivers from Green Fleet Systems and American Logistics International claimed they were retaliated against after trying to join the International Brotherhood of Teamsters.
Green Fleet Systems drivers staged a similar protest in August.
Drivers at Pacific 9 Transportation claim they were classified as "independent contractors" instead of being listed as full-time employees. Picket lines were set up at all three companies.
Green Fleet Systems released a statement Monday morning criticizing the strike.
"Green Fleet is discouraged to learn that the organizations behind this strike are continuing to spend their members' hard-earned money to battle an issue that the US Supreme Court has already decided is without merit," the statement said.