This is an archived article and the information in the article may be outdated. Please look at the time stamp on the story to see when it was last updated.
As fire crews gained the upper hand on a massive four-alarm blaze that continued to burn Tuesday at a Port of Los Angeles dock in Wilmington, an elementary school was evacuated after officials warned of the potentially hazardous air quality.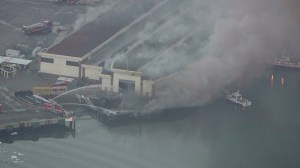 It took about 150 firefighters more than an hour-and-a-half to contain the bulk of the blaze, which broke out around 6:50 p.m. Monday and sent thick plumes of black smoke high up into the air.
The fire was contained to a 50-foot-by-800-foot area, and was still smoldering as of 5:30 p.m. Tuesday, officials said. Firefighters were expected to remain at the scene overnight.
They were battling the flames by land and sea. Five LAFD boats were deployed in the effort, as were two boats from the Long Beach Fire Department, according to Los Angeles Fire Department Capt. Jaime Moore. Divers had also attacked the fire from below.
It was difficult to fight the fire because the flames were burning in area that included "heavy, heavy timber" and multiple layers, LAFD Chief Ralph Terrazas said at a 6 a.m. news conference.
The flames weren't entirely extinguished Tuesday, but with the blaze under control and contained, concerns shifted to air quality.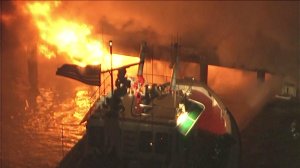 "Now what we're worried about is this plume of smoke, and where that plume of smoke is going," Los Angeles Fire Captain Jaime Moore said.
Fumes weren't detected to be at a hazardous level beyond the immediate vicinity, Terrazas said at the news conference. He added, however, that crews were continuing to monitor air quality as a precautionary measure.
Because of wind shifts, officials urged the closure of two Wilmington-area schools — Saints Peter and Paul School and George De La Torre Junior Elementary School — for the day.
Saints Peter and Paul School was closed for the day, the latter was evacuated, Los Angeles Unified School District officials said around 10:30 a.m.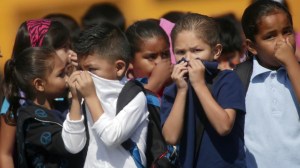 Residents in the area were also being warned to stay indoors and to avoid any kind of contact with the smoke.
"We ask everyone to stay indoors, especially here in the San Pedro-Wilmington area," Moore said. "Shut your air conditioning systems off. Close your windows. And avoid the smoke at all costs."
The cause of the blaze was determined to be a "torch welding operation," Terrazas said.
All terminals at the Port of L.A. were expected to resume full operations at 6p.m. Tuesday except for the terminal where the fire was located, the LAFD tweeted.
"This port is an economic engine for Southern California and this nation, and its operations are critically important," said L.A.  Mayor Eric Garcetti.
No injuries have been reported.
KTLA's John A. Moreno and Ashley Soley-Cerro contributed to this report.
More Video: