This is an archived article and the information in the article may be outdated. Please look at the time stamp on the story to see when it was last updated.
Methane levels briefly surged Friday night at the Aliso Canyon gas storage facility in the San Fernando Valley, prompting Southern California Gas Co. to notify nearby residents in Porter Ranch.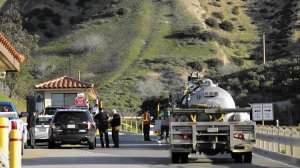 The company sent out the notice late Friday night, saying that increased levels of methane had been found earlier that evening on two fence-line monitors along the facility border.
"The brief elevated methane levels lasted about 20 minutes and do not present a health or safety risk to the community," the SoCalGas notice said. "These elevated readings are related to planned venting associated with maintenance work being conducted at the facility."
The company said the work was being done as "part of the final stages of a project to upgrade the compressors at the facility" and that it had notified state and local agencies about the methane levels.
Read the full story on LATimes.com.