This is an archived article and the information in the article may be outdated. Please look at the time stamp on the story to see when it was last updated.
A hiker who was attacked by a bear in the Angeles National Forest north of Sierra Madre on Monday said he is "fortunate" to have survived the terrifying ordeal.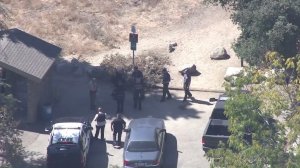 Dan Richman, 54, spoke exclusively to KTLA late Monday, saying he came face to face with two bears while out alone for a short hike, about 2 miles up the Mount Wilson Trail.
"All of a sudden, I saw this bear standing on its hind legs and I'd never seen a bear in person before. I was pretty freaked out," Richman said.
Thinking the stance was a sign of aggression, Richman backed away from the bear, not realizing a second bear was to his left. That second bear attacked, according to Sierra Madre Police Chief Larry Giannone.
Richman began to yell at the top of his lungs in an attempt to scare the bear away, and it seemed to work. But just as Richman was thinking of running past the bear, it went after him.
"He grabbed my wrist. Grabbed my upper leg. He actually put his mouth around my neck. And I just stayed really, really still," Richman explained. "I just didn't move. On my hands, on my knees."
Richman survived the bear attack with cuts, gashes and a bite.
"The bear was on top of me. He eased up and I got up and walked away. Once I thought it was clear, I just ran down the mountain," Richman said.
A neighbor spotted Richman and called 911 about 12:45 p.m. He had multiple cuts to his head, torso, legs and feet, as well as a head injury, and was covered in blood.
"He sustained … a pretty good bear attack," the chief said.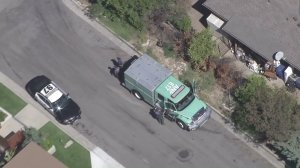 Richman was taken to Methodist Hospital in Arcadia, according to Nathan Judy, a spokesman for the Angeles National Forest.
Richman told KTLA he was "feeling good," but did have pain from a bite on his leg.
"If the bite had been a millimeter more it would've severed my tendon," Richman said. "I'm just really fortunate."
Authorities are looking for the bears involved but have not spotted them.
The bear that attacked was 200 to 300 pounds and taller than Richman, who is about 5 feet 11 inches tall, Giannone said. It's possible the pair were a mother and cub, he added.
The California Department of Fish and Wildlife and officials with the Angeles National Forest are working alongside Sierra Madre police, the chief said.
The city of Sierra Madre said on Facebook that the attack occurred 2 miles north of Bailey Canyon Wilderness Park in the area of Georgia's Cabin, apparently referring to George's Cabin, where a historical marker sits at the ruins of an old cabin.
"There is no immediate threat to the Sierra Madre community as this is well into the mountain area," the post read.
Bailey Canyon and Mount Wilson trails were closed, the city said. The area is a popular hiking destination.
The Angeles National Forest is home to black bears, which sometimes venture into foothill residential areas. Black bears generally avoid confrontations with humans and attacks in California are extremely rare.
However, a bear was euthanized in June after attacking a camper in the Angeles National Forest near Altadena. The bear apparently tried to open a tent while a man was inside and the man suffered a laceration to his forehead, officials said.
KTLA's Steve Bien, Irving Last and Cindy Von Quednow contributed to this article.