This is an archived article and the information in the article may be outdated. Please look at the time stamp on the story to see when it was last updated.
A motorcyclist was dead and a pickup truck driver was arrested following a collision on the 405 Freeway in Torrance early Sunday morning, officers said.
Torrance firefighters first responded to the scene, in the southbound lanes between the exits for Artesia and Crenshaw boulevards, around 3 a.m.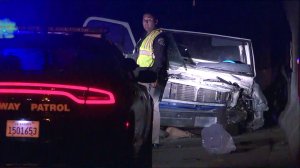 Footage from the scene showed wreckage from the fiery crash strewn more than 200 yards across the roadway. The remains of the mangled Harley-Davidson motorcycle were barely recognizable, while the Dodge pickup had sustained significant damage to its front left.
Investigators determined the Dodge had been driving the wrong way based on how it came to rest, said Sgt. Ray Scheidnes with the California Highway Patrol.
"The pickup truck did end up against the sound wall facing the wrong way with its left side up against the wall, facing northbound in the southbound lane," he said.
The truck's driver, a 22-year-old San Diego resident, was taken to the Harbor UCLA Medical Center with minor injuries and subsequently arrested, according to Scheidnes.
The motorcyclist who was killed was identified as 57-year-old Hawthorne man, officials said.
Officials are now investigating whether drunken driving could have played a role in the incident.
The southbound lanes of the freeway were closed for about six hours Sunday morning but reopened around 9:30 a.m.
No further details were immediately available.