This is an archived article and the information in the article may be outdated. Please look at the time stamp on the story to see when it was last updated.
A stand-up paddleboarder's close encounter with what appears to be at least one great white shark in Santa Monica Bay came in recent days amid an apparent increase in such sightings this year.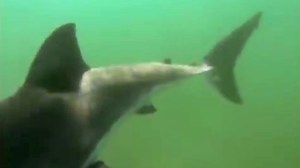 In the video, taken with a GoPro camera by paddleboarders Nathan Anderson and Josh Lovewell on Saturday, a shark circles in the green water underneath him and his friends, about 50 yards from shore.
For more than 3 minutes, Anderson drops his waterproof camera repeatedly underwater off El Porto in Manhattan Beach, capturing shots of the swimming shark.
He states that at least three sharks were seen in the video, which was posted to YouTube Monday.
"Sorry if the angles are a bit off. I was busy pooping my pants," Anderson writes in a caption.
The video shark-spotting comes amid anecdotal evidence that there are more great white sharks in Santa Monica Bay this year, according to Sarah Sikich, science and policy director at nonprofit advocacy group Heal the Bay.
"It definitely looks like a white to me," Sikich said of the video, emphasizing that she couldn't be sure of the species. "I think it's exciting."
Sikich noted a movement to try to document the sharks using small GoPro cameras.
In October, a great white encounter in the same El Porto area as Anderson's was posted to YouTube, generating more than 287,000 page views.
Water in Santa Monica Bay, a pupping ground for great whites, has been warmer this year, which could explain why more sharks seem to have been spotted, Sikich said.
It's not unusual to see younger great whites in the area in the later summer or early fall, she added, so the appearance doesn't come as a surprise. Still, she said, sightings of the large creatures are thrilling.
The shark-sighting comes as the California Department of Fish and Wildlife is working to determine whether great whites are a species that deserve threatened or endangered status under state law.