This is an archived article and the information in the article may be outdated. Please look at the time stamp on the story to see when it was last updated.
Human bones and clothing were found in the area of a popular hiking trail near Echo Mountain, above Altadena, authorities said Monday.
Authorities received a call about 8:40 p.m. Sunday from someone reporting the discovery, said Deputy Barraza with the Los Angeles County Sheriff's Department.
Two bones that appeared to be human were discovered by hikers on the Chaney Trail near Echo Mountain, the Sheriff's Department said in a news release. The two hikers took photos of their discovery and reported the finding.
Because it was dark and late, authorities waited till Monday morning to investigate.
By afternoon, county coroner Assistant Chief Ed Winter confirmed the bones were human, and said additional bones and clothing were located.
The department's cadaver dog, Indiana Bones, was helping investigators, Winter said.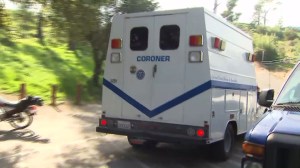 "According to coroner's office investigators, the bones appear to be human and it looks like they may have been there for several years," the sheriff's news release stated.
The coroner's office and sheriff's Homicide Bureau were trying to identify the individual whose remains were found, using missing persons reports and possibly dental records.
The location where the remains were found is not easily reached but is generally in a popular hiking area of the Angeles National Forest, the Sheriff's Department said.
Video showed authorities putting up crime scene tape about 1 a.m. at the Cobb Estate gate leading to Sam Merrill Trail. The trail was set to remain closed during the investigation.
The bones appeared to be from a leg, Deputy Jonathan Lested told the Los Angeles Times.
The investigation was taking place about 1 mile off of Mount Lowe Road on Echo Mountain, Barraza said.
KTLA's Geoff Peters and Ashley Soley-Cerro contributed to this report.