This is an archived article and the information in the article may be outdated. Please look at the time stamp on the story to see when it was last updated.
Officials were investigating a psychedelic drug lab Monday that caused six people, including five LAPD officers, to fall ill and be transported to a hospital after breathing fumes.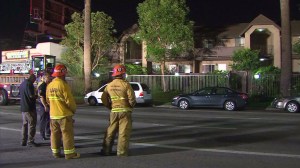 A man was heard yelling Sunday night and officers were able to locate him by following his screams, Detective Keith Honore with L.A. Impact said. The agency is also known as the Los Angeles Interagency Metropolitan Police Apprehension Crime Task Force.
After multiple attempts to verbally contact the man, the Los Angeles Police Department officers entered the unlocked home and discovered mason jars, meth and psilocybin "magic" mushrooms, a psychedelic drug. They then saw a naked, incoherent man exit a bathroom, Honore said.
Officers detained the man and quickly exited the home when they began to feel light-headed, Honore said.
The home was in the 14800 West Sherman Way (map) and the officers responded around 10 p.m., according to Stacy Ball with the LAPD.
L.A. City Fire responded around 11 p.m. to conduct a hazardous materials investigation, according to department Spokeswoman Katherine Main.
Officials first believed the home was a meth lab, but further investigation proved otherwise.
"That was probably the assumption made by the patrol officers on the scene because they had never seen this before," Honore said. "It's actually a DMT lab, which is made from mimosa bark from a tree that grows wild. They grind that stuff up, they put it in a solvent and then they extract the chemical from that and then boil it down up and come up with a crystal-like finished product that they can either smoke or ingest."
The DMT (dimethyltryptamine) lab was considered large and it was believed the man was selling the drug, which goes for about $100 per gram, Honore said.
Five officers and the man were transported to a local hospital, but later released and all said to be fine, according to authorities.
"They were experiencing a burning sensation in their nostrils, they were feeling light headed as well as having headaches once they exited the location," LAPD Capt. Ernie Eskridge said about the officers.
The man was booked at the LAPD Van Nuys station for drug manufacturing after he was released from the hospital, Honore said.
Animal control was also called to assist a dog that was exposed to the fumes. The dog was safe and transported to a shelter, Honore said.
Evacuations for the 12 adjacent apartment were lifted by 5:30 a.m.
"There's no real worry of exposure once it's out in the open air like this, and as soon as we were able to discover what it actually was we were able to get everybody back to their apartments," Honore said.