This is an archived article and the information in the article may be outdated. Please look at the time stamp on the story to see when it was last updated.
A motorist who led CHP officers on a pursuit in Ventura County was found dead in his vehicle on the 101 Freeway in Ventura Wednesday morning, apparently after ingesting some type of poison, the California Highway Patrol said.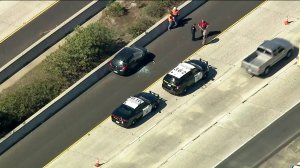 The suspect, 33-year-old Jonathan Hanks of Camarillo, was being sought by the Los Angeles Police Department on suspicion of raping a child and was first seen driving on the northbound 101 in Oxnard, according to CHP Officer Kevin Denharder.
The man was spotted around 7:35 a.m. by undercover detectives who were serving a search warrant in Camarillo, said LAPD Officer Tony Im. He allegedly raped a child on Feb. 4 in the San Fernando Valley, Im added.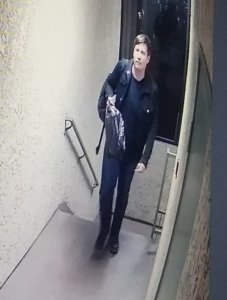 Hanks allegedly lured the girl through Snapchat, and police believe he victimized others, according to LAPD Detective Ninette Toosbuy.
CHP pursued him into Ventura until he pulled over to the right shoulder just north of Seaward Avenue, he said. Then, the man's car appeared to drift across all lanes of the northbound 101 Freeway until it ended up in the center divider.
Officers approached the stopped vehicle and thought the driver had been shot, but soon realized no weapons had been fired, either by CHP or the suspect, according to Denharder. Instead, investigators believe he took some kind of poison.
"He drank something he had concocted," Denharder told the Los Angeles Times.
A liquid was found in the vehicle, according to the newspaper. Police believe the suspect died of "self-inflicted poisoning."
The discovery of the deceased man came about 9:45 a.m., more than two hours after LAPD contacted CHP to alert them about the suspect, the Ventura County Star reported.
Authorities have not identified the suspect, nor did they release any more details about the incident.
KTLA's Steve Bien, Nidia Becerra and Jennifer Thang contributed to this story.