This is an archived article and the information in the article may be outdated. Please look at the time stamp on the story to see when it was last updated.
A postal worker who died after a car hit him while he was out delivering mail in Commerce Monday morning will be remembered as a man who loved his family, God and the Dodgers, loved ones said.
Joel Perales, 58, was fatally struck around 10 a.m. in the 2100 block of South Atlantic Boulevard, said Los Angeles County Sheriff's Lt. Mejia.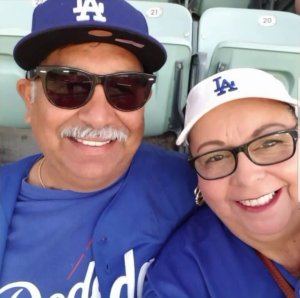 His family says he was at the back of his postal truck, pulling out mail and packages to deliver, when he was hit by a car that had apparently lost control.
Footage from the scene shows a white coupe lodged underneath the back end of the postal truck, which had a shattered windshield and appeared to have itself smashed into the rear of a large container truck.
Perales' nephew, Adrian Perales, said his uncle became pinned against the parked semi after his mail truck was pushed sideways.
A building along the street, lined with commercial businesses, had also sustained structural damage. Sheriff's officials said someone inside was injured and hospitalized, though their injuries were not life-threatening.
Joel had worked for the U.S. Postal Service for 30 years, his family said.
His son Timothy said his father was supposed to be off on Monday but had decided to work overtime for the holidays.
"Extra money for my mom," Timothy said. "He had five kids: four boys, a daughter. Three daughters-in-law. My sister right now is engaged; they're going to get married next year and my dad was planning to walk her down."
Timothy said he's been struggling to accept that his dad is gone.
"It's just so surreal," he told KTLA. "I was hugging him while he was laying in his bed and just trying to wake him up. You know, 'Time to go home.' "
Joel also leaves behind a wife, nine grandchildren, a number of siblings and his congregation in La Mirada, where he served as a pastor.
"It's definitely a huge loss," Adrian said. "So many people are going to miss him. He's touched countless lives."
Deputies at the crash site were seen conducting field sobriety tests on a young man with one hand bandaged. He passed and was released, but investigators are still waiting for the results of his blood test, the Sheriff's Department said.
Detectives are now working to track down security footage that can help them piece together the circumstances.
The victim's family said they've heard different accounts of what led up to the crash, but they suspect the coupe driver could be at fault.
"People are saying that the cars were traveling at a high rate of speed," Adrian said. "I don't know the specifics of this case, but something happened."
The family has set up a GoFundMe campaign to help raise funds for Joel's memorial services.
Correction: A previous version of this story incorrectly identified the city in which the crash occurred.
KTLA's Anna Albaryan contributed to this report.